Reception
Meet the staff in Reds     
Red 1
Mrs Garrad
Mrs Walker
Miss Blakemore
Red 2
Miss Parkin
Mrs Ferguson
Red 3
Mrs Aldred
Mrs Smith
Mrs Woodhouse
Mrs Cheema
We have lots of fun in reception exploring, investigating and learning new skills.
In reception we have daily maths sessions where we solve problems and explore all different kinds of concepts.
We use lots of fun resources and enjoy getting up and involved and working with partners. 
If you would like to continue learning at home, click on this picture and it will take you to an amazing maths website for children with lots of practical and easy activities for you to do at home!
We have daily Read Write Inc lessons in groups where we learn sounds, Fred-talk and letter formation. We practise our writing and reading and get better everyday! If you want to find out how to help at home, click on this picture and it will take you to a website with some information and fun activities for you to do at home with your children.
    Click on this
We have PE on Friday afternoon so please ensure your child has their PE kit in school on these days. Our library day is Monday and your child's library book will be changed on that day. The library bus is open every day after school if you wish to choose a second book to read with your child. Please can you send your child with their book bags everyday so that we can listen to them read / change their books.
This term, our topic is...…
Bog Baby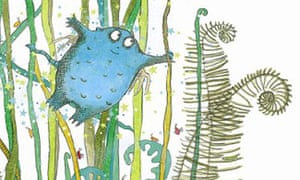 We will be reading lots of non-fiction books on minibeasts and pond animals
In maths we will be counting in lots of different ways and recognising numbers up to 20! We will be finding the total of two groups and solving simple addition and subtraction questions using different objects and materials. We will be halving and doubling numbers up to 20 using difference objects.
We will also be looking at similarities and differences between different animals and we will be looking at the life cycle of frogs. Click on the image to play a frog life cycle game!
Ready to race?
We are introducing a new, fun way to practise reading and learning 'red', on sight words.
In your child's reading record, they will have their own 'racing reading track' with key words along the track. Please practise reading these words with your child until they are confident with reading them, on sight, quickly and fluently. Once they have learned a word, please use the parent side of the track to colour in or tick the pavement next to that word. The teacher will be reading these words with your child every week in class until they are confident with reading them. The teacher will then colour in the teacher side of the track and your child will move onto the next pit stop of the race with new words to learn! As your child reaches each new stage, they will receive a sticker and when they complete a full race track, they will receive a prize!
We will check reading racers during the week- make sure you child has their yellow log every day.
Have a go at these exciting activities!
Click on the link below to see the developments of our new Outdoor Environment:
Useful websites
Here are some important notes for our adults to remember!
Our PE session is on a Friday afternoon.  Please make sure you send your child to school in clothes they are going to find easier to get on and off. ALL uniform and PE clothes need to be named alongside all jumpers, cardigans, coats and jackets that your child may wear for school.  It is also a good idea to name their shoes – on PE day all 30 children get changed and unchanged together so without names on their items, clothing can get easily mixed up!  Please remember to remove any jewellery so your child can participate safely. (If your child is wearing earrings they will not be able to participate for health and safety reasons)
Your child needs a reading folder (smaller folder) which they must bring to school every day! Please check your child's reading folder each evening as there may be homework, letters or notes from your child's class teacher.
We change reading books during the week (one new book per week) so please ensure that reading folders with books are in school everyday.
Every child is entitled to a free school dinner – give them a try, they're yummy! Hot lunches and sandwiches are available so your child does not need a packed lunch.
Library day is now on a Monday and your child will be able to choose a book from our Library bus. Your child must have a library bag (larger blue bag) and their library card.
Your child may bring a named bottle of water to school.
Reading racers will be checked every Friday. Please ensure your child has their reading log in school on this day.
Reading books are changed on a Wednesday. Please ensure your child has their small reading folder (small blue) in school on this day.
Don't forget to have a look at our gallery throughout the year!